About Us
Watertec Enterprises is a prestigious business company, providing water and wastewater treatment solutions to various industries. Established in 2015, we have been consistently delivering high quality water treatment solutions to municipal projects, turnkey solutions to industries and other services. With more than a decade experience in the industry, we have earned a respectable position in the industry as a manufacturer, supplier and trader of Effluent Treatment Plants, Watertech Industrial RO System, ElectroDeionization Water Plant, Solar RO Plant, Watertec RO Demineralized Plant, Watertec STP Plants and many other products. Our wide spectrum of products is designed with cutting-edge technology and in compliance with global water treatment quality parameters. We provide cost-effective and leading edge solutions that meet our clients demand of quality water requirements. We are also trusted in the market as a service provider, which holds specialization in providing ETP Installation Services, STP Installation Services, STP Installation Services, etc.
Our Scope Of Work
We have expanded our business to various horizons such as municipalities, hotels, resorts, power plants, chemical and pharmaceutical factories, textile industries and many others where safe drinking water is of utmost requirement. We design and install various water treatment products including large scale water plants like sewage treatment, etc. In the past 12 years of operation, we have installed more than 500 installations in India and are certainly proclaimed as one of the distinguished companies in the industry.
We emphasize on feasibility studies and complex front-end engineering design to manufacture water treatment systems and components and conduct our construction, installation and commissioning of complete plants. We also give maintenance services to our clients across broad scale water treatment value chain.
Our Work Process
Our work process that helps in serving Effluent Treatment Plants, ElectroDeionization Water Plant, Watertech Industrial RO System, Solar RO Plant, Watertec STP Plants, Watertec RO Demineralized Plant, etc. revolves around:
Planning
Research
Optimising
Results
Our Vision & Mission
Our company vision is to become the market leader in the industry and get recognition as the leading independent water treatment project company in the domestic market.


Our mission is to attain continual growth of various water treatment projects through best engineering and cost-effective solutions for our customers.
Our Values
Our values are the building blocks of our business. We maintain a strong ethical business policy that is honest and tolerant. Also we encourage team work and give equal opportunities to all of our members. We maintain the best standard of dignity and respect and appreciate our workers for their efforts. We are agile, and quickly grab any opportunity that comes to us. That is because we believe in responsive and responsible business deals.
Why Choose Us?
Rich Experience: We are supported by a team, which has over 20 years of experience in the industry.
High Quality: With support of our team, we are delivering products of high quality.
Customized Solutions: To meet diverse requirements of customers, we even provide customized solutions.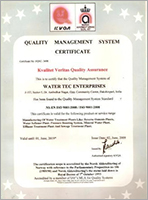 Read More